Create an exceptional and premier packaging solution for customers using advanced machine tools to wrap products. Die cutting is the most widely used process for creating custom boxes wholesale on a larger scale. 
Don't you know what the die-cutting process is? However, if you don't have much knowledge of manufacturing, you may not be familiar with it. Don't worry. We are here to explain each and everything about it. Initially, it started from the letterpress for printing. 
Then, it gains popularity and becomes the most specific manufacturing process. Hence, it is the method of cutting the material to a desired shape, pattern, and design. There are no limitations to creating the shapes and designs for various products. 
However, you can tailor the boxes to your brand narratives and enhance customer experience. Further, it is a fast, more reliable, easier, and affordable way to craft custom packaging ideas that perfectly fit your needs. 
In this complete master guide, we will explain everything about the die-cutting process. 
What are Dies?
What are the manufacturing tools used for the die cutting process? Is that what you are asking about? Let's first know what exactly a die is. It is a special manufacturing tool used to shape the paper material to a desired one using a press. 
Still didn't get it. What is the die? It is a specific mold-shaped tool that one can use to cut the material for crafting custom packaging. However, it is the first step for a die according to your needs for creating thousands of Kraft boxes. 
Die maker tools are used for creating a custom die for special types of boxes for various premium products. So, finalize your die line first, then start die-cutting the custom packaging. 
Is Using Die for Manufacturing Costly?
No! It is not costly. However, you have multiple products with different structures, which makes it a bit costly to create dies separately for each product. But when you have many products with the same structure, it becomes too affordable. At the same time, your investment in creating dies is off-putting. However, the cost can turn your local business into a branded one.
Can You Use Dies More Than Once?
Yes! You can use the dies for more than once. Creating a die for each product with specific requirements can be too costly. But you can repeatedly use such dies for manufacturing when you have several products with different artwork but the same shapes and designs. 
However, it is a one-time investment and goes for longer. When a die is created, it is usable for creating thousands of packaging boxes with no extra investments. Whether you want to create custom candle boxes or heavy rigid ones, die helps you achieve your goals easily. 
If you have five products with the same structure but want a unique design, you can do a single die-cut to create packaging for all five products. In addition, it is a very creative and effective way to showcase your brand narratives. 
How Does the Die Cutting Process Work?
A die-cutter machine is a larger cookie that is used to press the material to create desired shapes.  However, technological advancements have made it easier to cut paper easily and accurately for perfection. You can create the artwork design on the computer and then apply the dies accordingly. But you must measure your product dimensions accurately for packaging perfection. However, to make a more appealing look, you must choose the color suitable color palettes for creativity. Explore RGB vs CMYK color models and their features in depth to select the appropriate one for printing. 
Put the Die On the Material Accurately
In addition, using a laser cutter, the dieline is burned into the paperboard surface for printing a more creative and precise outline. You must ensure first you have put dies accurately on the fold lines, cut lines, and safe zone for safe and accurate designs.
Accuracy & Precision with Laser Cutter 
Laser technology plays a vital role in the die-cutting process. However, it lets you create designs on the packaging retail boxes with accuracy and precision. However, the die board lets you ensure minimal movement and precision placement. 
Guideline Die Board
Die-cutter board provides you with complete guidelines for moving the place for making cuts through the paper material, which lets you cut the material straight and accurately. 
Function Used for Die-Cutting
However, various functions are used when doing die-cutting. Each function has a different task to perform to meet the structural designs. However, you can press the die-cut machine into the material to perform the programmed functions to bring the correct mirrored shape to the dieboard. When you finish cutting, you can collect and recycle the excess and waste for the next task.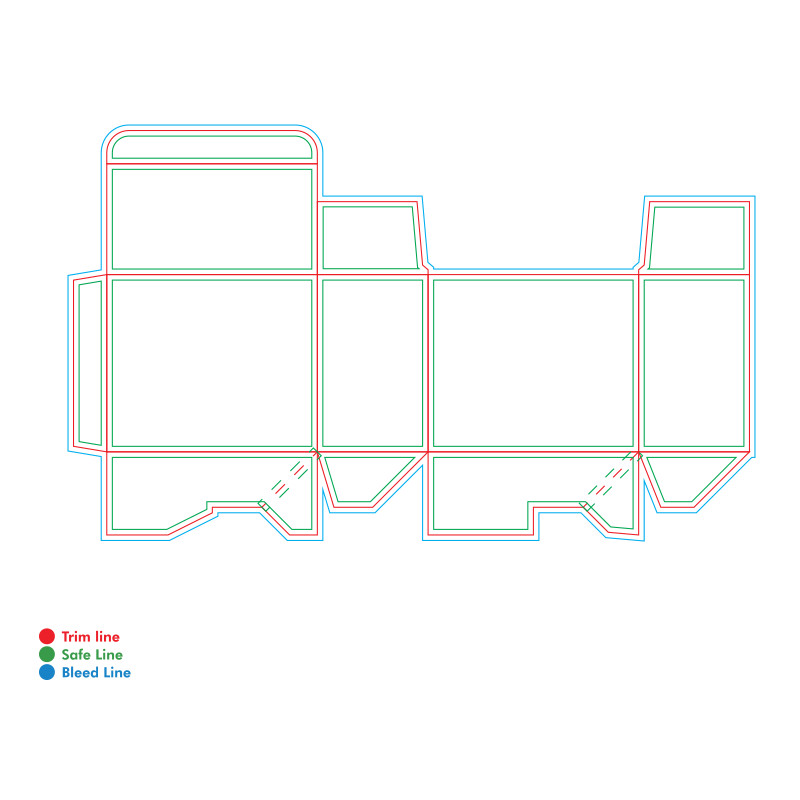 These basic functions are listed below. 
Through cutting 

Scoring 

Creasing 

Perforating 
The cutting process is to cut the paper into the right dimensions to meet the accuracy. While, scoring lets you leave indent, partial cuts, or impressions, on the specific area of the paper where you think the ideas will suit perfectly. 
In addition, creasing lets you create a fold line to make the construction easier and more convenient. You can easily fold the paper following the dimensions using the folding lines. However, perforation helps you leave small cuts or holes for easy tearing. Customers can easily tear cardboard boxes and access the products easily.
What are Several Methods Used for Die Cutting?  
And now you are familiar with the particular functions of the die-cutting process. Using such methods may give you many opportunities to construct the boxes for a true custom wholesale packaging experience. However, you can apply die-cutting to any material. There are numerous types of die-cutting. Some of those are there:
Blanking 
The blanking method is used to make the exterior edge sliced by clipping it to produce a more accurate degree of flatness. 
Drawing 
In this type, you can pull the paper into a specific length to craft a lean and long packaging solution. However, custom box manufacturers prevent wastage and let you create an accurate solution with perfect dimensions. 
Forming 
Shaping the box into a usable box. Such a process is great for drawing with rounded, cylindrical, or other custom shapes. 
Coining 
The coining process lets you create circular holes in the paper through the force and pressure on the custom packaging material to construct a meticulous or intricate structure. 
Broaching 
However, it includes a row of cutting teeth that let you cut the paper, which is usually thicker and harder. It is perfect for making folding cartons or heavy, thicker cardboard boxes.