Want to generate more income this Halloween? It is a special event celebrated on October 31st. Wrap your gifts in custom Halloween packaging boxes that can make the celebration even more fun with spooky textures. As every event brings happiness and joy, people send gifts and go out for dinner.
But Halloween is different. In such events, people wearing demon masks act like witches and wizards. However, like every event, people used to send gifts to their loved ones. As a business owner, you should consider the product and visibility relevant to such an event.
However, it can be a great opportunity for brands to make sales and spread brand awareness. It is possible when brands wrap their items in printed gift boxes that reflect the branded features of the products while keeping the sense of event display. Let's first know what Halloween actually is.
What is Halloween?
Halloween is a holiday celebrated on the night of October 31st. It originated from the ancient Celtic festival of Samhain when people would light bonfires and wear costumes to ward off ghosts. However, the concept behind Halloween is that people believe that on this day, the souls of the dead come back home.
So, to celebrate such an event, people dressed up in Halloween costumes to be looked at as wizards and witches. Today, Halloween is celebrated with activities such as trick-or-treating, carving pumpkins, and attending costume parties. It is a fun and spooky holiday that people of all ages celebrate and enjoy.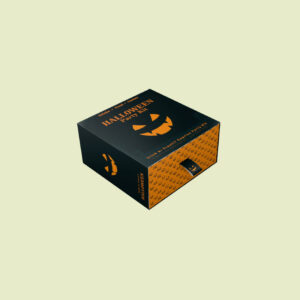 Why are Halloween Packaging Boxes Vital for Wrapping Gifts?
Custom boxes are designed to meet specific product packaging needs while considering the theme relevant to the event. It makes the products more noticeable and a priority for choosing them for sending gifts.
However, for small brands or startups, it is a great opportunity to spread knowledge about the brand and make higher sales. These boxes can play a vital role in quickly pushing your brand to achieve the next level.
How Custom Boxes Add More Fun for Celebration?
These boxes are primarily designed to carry gifts such as toys, treats, and goodies. A well-designed box is often decorated with a Halloween theme. However, the spooky Halloween gift boxes make the celebration more fun. These boxes add an element of surprise with spooky textures that make the unboxing experience more fun.
Spooky designs make packaging more fun
Add Frightening geometric masks
Include a limited edition glow-in-dark sticker
Hershey's Terrifying Delights
How to Personalize Custom Halloween Boxes to Enhance Your Brand Visibility?
Designing and personalizing the Halloween themed boxes is not a big deal. But choosing the right materials and generating unique ideas that set you apart from the crowd matters a lot. If you are starting a new business, it will be difficult to customize boxes that perfectly meet your packaging and the latest market trends.
However, you can generate new ideas and get online assistance from custom Halloween box manufacturers to craft your ideas into premium gift packaging. If you want to do it yourself, here are some important steps you can follow:
Use Spooky Theme for Innovation
The box's theme shows your creativity and builds customers' interest in the products. However, themed Halloween boxes play a vital role in selling your products at such an event. These boxes are modern, trendy, and relevant to the event.
You can customize the boxes into various shapes, styles, and designs to fit your packaging needs perfectly. Further, all these things can make your product's packaging more appealing.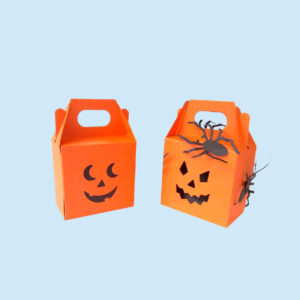 Coloring Effects Must Be Relevant to the Event
Halloween is about dressing up like witches or wizards. Make your product packaging the same by adding horrifying color effects relevant to the events. However, black, red, and other deep, dark color combinations can make the packaging more prevalent for wrapping items.
When your products have custom Halloween packaging boxes similar to the event, they gain more attention, which leads to sales. So, if you want to uplift your business, it is a great opportunity to create packaging that makes a sense of Halloween. It not only helps in selling your products but also helps in creating a memorable impression.
Follow the Halloween Trend for Designing the Box
Nowadays, people are brand-conscious and want the most trending products for showcasing. However, sending a gift is all about making someone feel special. So, the most modern and trendy packaging can achieve such goals.
Brands need to take care of customers' preferences and market trends. However, on Halloween, brands need to wrap products in wholesale Halloween boxes in USA that blend a sense of trends. It will help you be more likely to add value to your brand.
Highlight Unique Features that Set Your Products Apart
Individuals notice various things when an item is used to send a gift, especially about celebrating special events. However, they choose only the unique and most innovative products among many items.
But how do they know whether the product is more suitable? This is due to the printed details on the boxes. However, you must highlight your product's unique features to let customers know whether it suits them.
Use Special Finishing Effects to Boost the Visibility
Special finishing options are vast in categories and have more variations. Using such finishes, you can make your product's visual perception of Halloween packaging boxes stunning. You can highlight a more prevalent feature to make it more noticeable among various features.
But how? Using spot UV. You can make the text noticeable and attractive using embossing or debossing. However, laminations help protect the printed details and make your visual presence more attractive.
Are Getting Custom Halloween Boxes Cost-Effective?
Yes! Getting custom Halloween packaging in bulk will be affordable. These luxurious and innovative boxes make them ideal for wrapping gifts. However, getting such boxes in a few quantities can be costly since they are made of luxurious material. There will be much material waste. Getting fewer quantities leads to higher costs. Halloween is a bigger event. You can do a lot of sales if you fulfill customers' requirements.